![if !ppt]> <![endif]>
<![if !ppt]><![endif]> <![if !vml]>

<![endif]>

The

 

Rebuttal: Debunking the Conspiracy Theorists


 

2.1

Lack of a blast crater beneath the LEM.

<![if !vml]>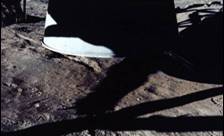 <![endif]>

ü

The engine nozzle was about 54" in diameter so that the area was about 2300 sq. in.

ü

At 3000 lbs thrust for landing, the pressure was only about 1.5 psi.

ü

In a vacuum, rocket exhaust spreads out very rapidly.

 

Very little ends up impacting on the ground directly below the lander.